Our postcards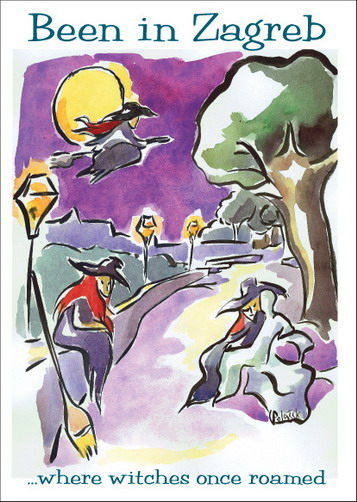 If you visit the Museum of Zagreb in the Upper Town, don't miss the Room 6. Here you will find the electronic ticker that lists the names of the unfortunates ones condemned to die as WITCHES during the Middle Ages. Many of these so-called witches were burnt to death right in the Upper Town.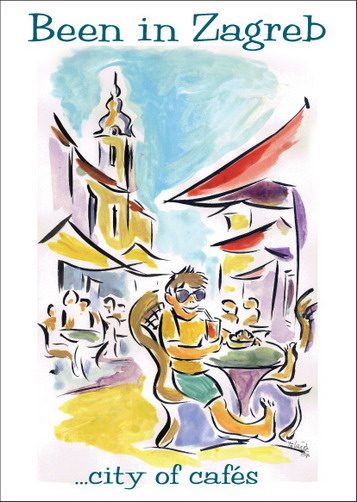 TKALČIĆEVA STREET used to be the boundary between the rival towns of Gradec and Kaptol. It is now a picturesque street with cafes in almost every house. The people of Zagreb always find time to enjoy their coffee so the street is always crowded, making it one of the centers of modern urban life.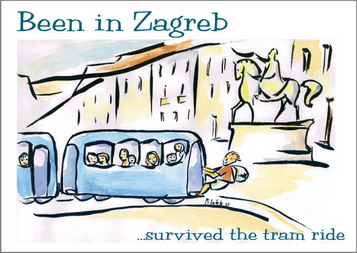 BLUE TRAM is one of Zagreb's symbols. The central square of Ban Jelačić makes an excellent starting point for the visitor as it sits at the top end of Lower Zagreb and at the foot of the Upper Zagreb. It is also a central hub for Zagreb's tram system, always packed with blue trams. The trams themselves are often packed, too.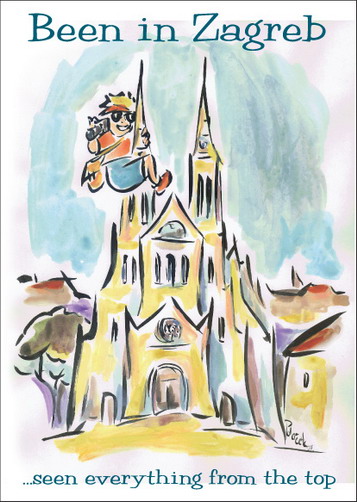 ZAGREB CATHEDRAL on Kaptol is probably the most famous building in Zagreb, with its spires visible from many locations in the city. In 1880, the cathedral was severely damaged in an earthquake but restored to its present neo-gothic form by Hermann Bolle, a famous architect whose works had a big impact in Zagreb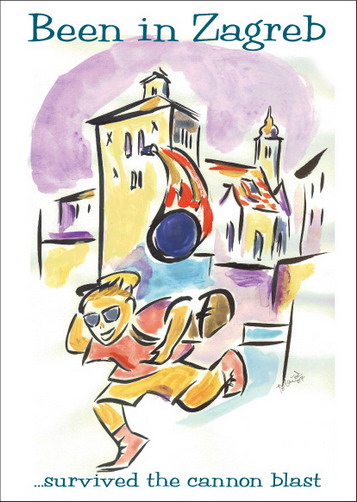 In Zagreb, for more than a century, the noon has been announced by the cannon firing from the LOTRŠČAK TOWER, rousing flock of birds from the neighboring squares and, for a moment, providing a welcome distraction to people as they go about their daily routine. Erected in the mid-13th century this tower is the best-preserved part of the former defense system of the town.
ABOUT THE ARTIST
Koraljka Polaček was born on the 23rd November 1969 in Zagreb. She graduated from the Academy of Fine Arts in Zagreb, in the class of professor Eugen Kokot. Since 1994 she has taken part in many group exhibitions. She has also prepared over twenty independent exhibitions. Between 1995 and 2003 she has created and displayed her works in atelier in Baška on the Island of Krk. Her paintings and drawings are in private collections in Croatia and abroad.
She occupies herself with painting and pedagogical work and is member of art associations HDLU Zagreb and Likum. Koraljka lives and works on the island of Cres.
Contact: www.inet.hr/~kpolacek/